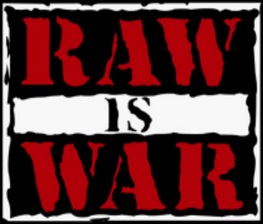 -- Sept. (Week 3) --

-----


EUROPEAN CHAMPIONSHIP QUALIFIER MATCH

The Miz vs. AJ Styles
After the pyro package and opening of Raw Is War, the show was started with a four star qualifying match for the European Championship. In the beginning, Styles had the clear advantage. The Miz would turn tides with strikes. This lead to a lot of back and forth pin attempts, including The Miz attempting a dirty pin attempt.

Once the fight got back going AJ once again too a clear advantage. Miz would hit a lift single underhook ddt and pin styles, but Styles would kick out. After the Miz took the drivers seat for a while, Styles would battle back.

Eventually we would see AJ hit a Styles Clas, but The Miz would kick out. Going back to a back and forth battle, a pele kick would be hit by styles followed by second Styles Clash attempt, which was blocked by The Miz blocked.

The Miz would capitalize and throw Styles into the turnbuckle, once AJ popped out of turnbuckle Miz hit a Skull Crushing Finale. He pinned AJ, but Styles would kick out. Miz went for a Figure Four here, but it would be blocked. In the end, Styles would battle back from this and hit a Phenomenal Forearm for the victory.
WINNER : AJ STYLES
"Won't Trust Him As Far As I Could Throw Him"
-- ACT I --
Following the match, there was a backstage segment with Stone Cold Steve Austin being interviewed by Renee Young. Austin was asked about his unlikely teaming with HHH. At this point Austin began to talk about how he didn't trust HHH but he wasn't worried about The Game being his tag team partner.
Stone Cold then explained that no matter what, his focus would still be on being the next WWE Champion. He was disturbed by Stephanie Mcmahon walking past him in the backstage hallway. Austin would stop talking and approach her. Stone Cold would ask her if HHH was in the building and she would give him an assuring nod.
From there he told Stephanie to relay a message to The Game...
"I have no problem taking out The Authority with Triple H tonight, but if he crosses me, there will hell to pay."
MATCH TWO
Simon Gotch vs. Titus O Neil
The match went back and forth in the beginning. A distraction from English helps Gotch take the advantage and it wasn't long before Gotch hit a fireman's carry roll followed by a gentlemen s clutch for pin. Titus O Neil would end up getting a rope break.

Following the rope break Titus would capitalize on the match and hit a back-breaker followed by a fall-away slam. At this point, Aiden English distracted the referee. Due to the distraction from English, Gotch was able to get a Tiger Bomb on Titus O Neil and follow up with a dirty pin on the ropes to pick up the victory.
WINNER : SIMON GOTCH
"Hijacked"
-- ACT II --
Following the match, Darren Young chased Aiden English around the ring. In the commotion of the event, Simon Gotch rolled out of the ring and grabbed both WWE Tag Team Championship belts from the announce table. While Titus tried to stop Gotch, The Vaudevillains would get away and escape up the ramp with The Prime Time Players belts to a massive amount of heat coming from the audience in attendance.
MATCH THREE
The Ascension vs. The Usos
This match only turned out to be a two and a half star match as The Uso's continued to fall into their string of bad luck. The Ascension took over with power moves early. In the end it say Jimmy Uso miss a Samoan Kick attempt that helped Viktor hit an STO, followed by The Ascension hitting The Fall Of Man to give their team the victory.
WINNERS : THE ASCENSION
MATCH FOUR
Dean Ambrose vs. Mark Henry
This fight became another four star match. Henry took advantage quick with his power but Ambrose seemed to like it. Henry missed a splash in the ropes eventually, which had allowed Dean Ambrose take over. It wasn't until  after an onslaught of strikes that Henry would get a counter.

At one point, the fight spilled outside where Mark Henry took over drastically with the environment. Once it returned to the ring, confident it would be over, Dean got locked in a Bearhug by Henry but Ambrose would eventually break out.

At this point Mark Henry would hit a World's Strongest Slam, but following a pin attempt, Ambrose got a  rope break, Clothesline from hell- kick out. This helped Ambrose capitalize and eventually led to him hitting a Running Knee Lift to the temple. Ambrose went for a cover here, but Henry would kick out.

The two continued to battle, but in the end, Henry would hit a Worlds Strongest Splash to obtain victory via pinfall.
WINNER : MARK HENRY
Following the match, Mark Henry would exit the ring after his victory. A crazy beaten up Dean Ambrose would roll out of the ring holding his ribs in pain and grab a microphone. When he spoke he would address Mark Henry.
"Hey Mark... Thanks Mark!"
Mark Henry would turn around and look at Ambrose and shake his head in disbelief before continuing to make his way backstage.
"Addressing The YES Movement"
-- ACT III --
Daniel Bryan is backstage, getting interviewed for his match later against Randy Orton to qualify for the Fatal Four Way WWE Championship match at Night Of Champions. Bryan starts out speaking to Renee modestly as always. Bryan stressed the fact that it is a great opportunity to have a chance to fight for the WWE Championship.
From here, Daniel Bryan begins talking about the YES Movement and how he can't let them down. It wasn't long before Randy Orton had come into the picture. He was staring Bryan down as Bryan stopped talking. At this point Randy Orton stated that no movement would hold him back and that Daniel Bryan would not beat him tonight.
Bryan simply responded with one question...
"Can Daniel Bryan beat Randy Orton... YES, YES, YES!"
The Yes chants began to fill the arena showing the many in Daniel Bryan's YES Movement that had support in him as they cut back to ringside for the next match.
MATCH FIVE
Dolph Ziggler vs. Chris Jericho
This match was very over rated. What was suppose to be one of the best matches on the card was only a three-star match. Dolph Ziggler still couldn't get out of his funk and eventually got caught with a Codebreaker to give Jericho the victory.
WINNER : CHRIS JERICHO
After the match, Kevin Owens would run down and once again, unleash an attack on Chris Jericho. Eventually a group of officials and security would break it up. The rivalry seems to have gotten out of hand, and moments later we learn...
-----
*NEWS UPDATE*
- "Night Of Champions" Match Announcement -
Chris Jericho vs. Kevin Owens
-----
MATCH SIX
Randy Orton vs. Daniel Bryan
Orton and Bryan put on a long, tiring, five-star match thaIt went back and forth in the beginning with Bryan trying submission holds to submit Orton early but Orton would fight out. Orton started to get an advantage and would hit his Apex Predator Stomps followed by RKO. Bryan would save the match by catching a rope break.

This made Randy Orton take the fight outside the ring, it began to go back and forth again. This time a couple counters when back in the ring gave Bryan the advantage to hit a Yes Kick Combo. Daniel Bryan followed up with a pin fall, but Orton would catch a kick out.

In a quick scuffle after that, Orton would try to take the match with a quick roll up but Bryan would kick out. This led Orton to begin an aggressive brawl on Daniel Bryan. Randy would eventually execute a Spike DDT, but Bryan would kick out once more.

Orton felt the end was near and went for an RKO, but Bryan fought it off and Randy Orton found himself in the YES Lock. He fought and tried to get out of the hold, but in the end, he had no choice but to tap-out, awarding the qualifying match to Daniel Bryan.
WINNER : DANIEL BRYAN
After the match, the arena went crazy with YES chants while Daniel Bryan celebrated.
"Inside The Wyatt Family Compound"
-- ACT IV --


From here, going into a creepy room with sheets over the windows and candles all over, Bray Wyatt begins to talk about his recent problems.
BRAY WYATT : People just don't understand, they don't see where I come from. They don't understand what is on Bray Wyatt's mind (points his finger to his head). An infestation of corporate puppets rule this land, people corrupted by the system that holds us down. People like Apollo Crews, people like John Cena. In my world, these people mean nothing. They would rather live in the guidelines that the system provides us with. Good ol' Bray Wyatt, not me... I like to derail the train that we all ride on called life and defy the order around us. I am no puppet, friend. I am the Eater Of Worlds and I will not stop until these people obey and embrace their fear. John Cena, your time is coming at Night Of Champions. I will show how a wrestling god is nothing more then a mere mortal!
MAIN EVENT
HHH & Stone Cold vs. The Authority (Ryback & HBK)
The match itself went back and forth for a while with a lot of quick tag outs from both teams. Eventually, the Authority took over which led to Ryback hitting a Meathook Clothesline followed by a Shell Shock on Austin.

Stone Cold would kick out, and after Ryback got a tag to HBK, Stone Cold would catch a second wind. The second wind allowed Stone Cold to hit a Stunner on HBK. The pin would lead to HBK getting a rope break.

From here, the match started going back and forth again. When HHH got in the ring, he aggressively went after Shawn Micheals. After catching a few counters, HBK would hit a Sweet Chin Music on HHH. Micheals went for the pin, but HHH managed to kick out.

Continuing to dominate, HBK would attempt another Sweet Chin Music to HHH, but it would lead to a counter. It wasn't long before both men made fresh tags. As Austin and Ryback went back and forth, Ryback would attempt another Meathook Clothesline to Austin which would be dodged.

Austin began to fight back from this moment and got a Lou Thez Press to Ryback followed by a Stone Cold Stunner to Ryback. Austin had the pin and the match in his grasp, but HBK would break up the count

From here, Austin would get a tag to HHH. After a small back and forth battle, Ryback countered a Pedigree. From here Ryback caught his second wind, hitting a Shell Shock on HHH for the victory.
WINNERS : THE AUTHORITY
"Caught In The Mix"
-- ACT V --
Following the match was a post match scuffle. All four men began fighting. Austin would roll out of the ring and grab a chair to help his odds. Sliding back into the ring, Austin targeted HBK, nailing the chair into his ribs. Cocking the chair to the side, Austin swung it at HBK's head, but Ryback would push HBK out of harms way, causing Austin to crack HHH in the head with the chair.
Austin dropped the chair and looked around in rage, by the time he spun around, Ryback hit Stone Cold with a Meathook Clothesline. At this point, Vince Mcmahon stepped out onto the stage with a sinister grin as if his plan had worked. HHH was bleeding on the canvas due to an accidental chair shot from Austin. Austin himself was down on the mat while HBK and Ryback taunted to end the show.
Similar topics
---
Permissions in this forum:
You
cannot
reply to topics in this forum